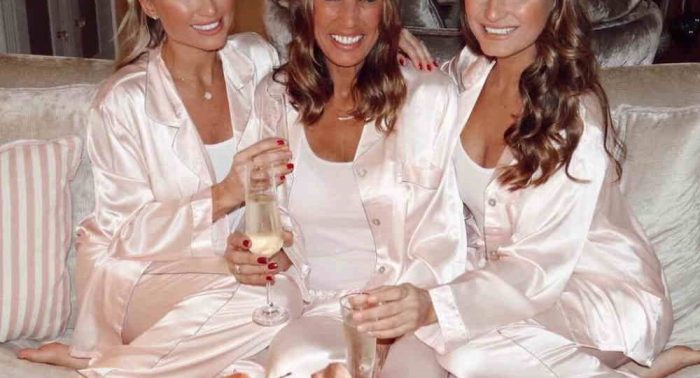 Why Satin is the Best Material for Personalised Pyjamas
 When you begin your hunt for the perfect personalised pyjamas and personalised slippers for your bridal party, there's one thing you'll notice: the wide variety of materials. As if buying the ideal pair wasn't hard enough, you now have to decide which material to opt for!
However, making your decision even easier is knowing that the most popular material seems to be satin or a satin blend. Why is satin so popular, and could it be the right choice for you?
Body Temperature Control
Even though satin is light, airy, and comfortable to sleep in, it also has the surprising benefit of controlling your body temperature. Satin can trap heat that may otherwise be lost with other materials, making you feel warm when the mercury plummets.
Soft On Your Skin
If you have particularly sensitive skin that gets irritated from more abrasive materials, satin could be a wise choice for you and your bridal party. You may not be sure about everyone's skin sensitivities, which means satin allows you to cover all bases.
Keeps Your Skin Hydrated
There are few things as frustrating as working hard to keep your skin hydrated during the day, only to have it dry out overnight courtesy of your moisture-absorbing sleepwear. You are unlikely to have this problem with satin sleepwear, which can be ideal if you're purchasing personalised pyjamas for a 'beauty day' with your friends.
Satin doesn't absorb any of the moisturising creams you put on your body, nor does it rob your skin of any of its natural oils, either. It's very likely that your skin will feel the same way in the morning as it did the night before.
Lightweight
When your order of personalised pyjamas arrives in the mail, the weight of the package may surprise you. Even though you may have ordered several pairs, satin is not a heavy material. Its lightness also means it's suitable for summer use, keeping you cool when the summer heat threatens to impact your sleep routine.
Comfortable
The softness and smoothness of satin make it extremely comfortable to wear. Whether you're wearing a satin singlet and shorts, or shorts with a satin t-shirt, you'll be amazed at how soothed you feel while wearing it.
So, if you get to enjoy such benefits from satin pyjamas, it stands to reason that your bridal party can, as well.
It's Cruelty-Free
Even though satin and silk are very similar, satin is undoubtedly the better option when it comes to animals.
Silk comes from the larvae of some insects that use it for their cocoons. Some of the best-known silk is also obtained from the mulberry silkworm which is reared in captivity in an industry known as sericulture.
In contrast, our modern-day satin is mostly made from polyester and rayon, which can be manufactured in long filaments.
Dries Fast
If you only own one pair of pyjamas at any given time, let it be a satin pair. They dry so quickly that if you wash them after a night's sleep, they will most likely be dry by the time you need them the following night.
Buying personalised pyjamas can require a lot of homework, but it's clear to see that satin stands out from the crowd. If you're ready to place your order, you'll undoubtedly see the value in this gorgeous material.